You can expect to see a breadmaker in any type of modern kitchen today. It is one of the most needed kitchen appliances as making your own bread and other baked recipes is not only practical but enjoyable too. This particular review will focus on the Emerilware bread machine.

You will find out about its features, description, pros and cons in order to help you decide on whether this Emerilware bread maker can provide for your needs and requirements or not.
Technical Information
Brand: Emerilware
Model: T-Fal 3-Pound Breadmaker and Baguette Maker
Size: 26.5 x 19 x 15.5
Weight: Approximately 18 pounds
Power: 1,650 watts
Color: White
Display: LCD
Control Panel: Touch pad
Digital Timer: 15 hours
Pan: Nonstick
Cover: Removable lid
Loaf Size: 2-lb., 2.5-lb., 3-lb.
Bread crust color: light, medium, dark
Accessories: breadmaker loaf pan, baguette trays, baguette baking rack, finishing blade, slicing blade, baker's brush, measuring cups, measuring spoons, breadmaker instructions, Emerilware bread machine recipes (12 recipe cards), breadmaker recipes (booklet contains 24 recipes)
Features

Multiple Loaf Sizes – You can choose to make a 2-pound, 2.5-pound or 3-pound bread in this Emerilware bread machine. You can also opt to make 4 loaves of individual baguettes instead of just one size of bread.
Pre-programmed Settings – This Emerilware bread maker model is equipped with 14 pre-programmed settings which allow you to make a wide variety of recipes including basic bread, cakes, dough, pasta and even jams.
Crust Settings – You can adjust the crust color settings in this bread maker; you can set it to light, medium or dark depending on your particular preferences.
Controls – This model of breadmaker has modern touch pad controls. Its digital timer is capable of up to 15 hours, and it has a keep warm option and auto shut off functionality too.
Description:
Reviews of Emerilware breadmakers are widely available on the internet today. This bread and baguette maker model of breadmaker is particularly considered by many customers as the best bread maker mainly because of its capability to make up to 3 pounds of bread. You will find in various bread machine reviews that not all breadmakers have this capacity (most are limited to only up to 2.5 pounds of bread) while this particular model even offers the option of making 4 individual baguettes at one time.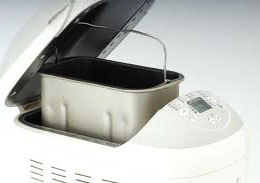 Bread making machines like this unit from Emerilware offer the utmost convenience in making bread at home because it has 14 pre-programmed settings. You can even choose to use its delayed start timer mode so you can select a particular time of the day to have freshly baked bread, cakes and pastries. In fact, this breadmaker model even has an express cycle system that you can use if you are in a hurry as it can bake in as fast as 1.5 hours.
You will not feel lost when you buy this type of Emerilware bread machine, even if you are just a beginner baker. The unit includes breadmaker recipes, so you can immediately start on a baking project right away.
Pros
Versatile and Innovative – You can bake almost all types of bread with different textures on this Emerilware bread maker. Although its main functionality is to make basic bread and baguette types of recipes, it can also make cakes, dough and jams.
Attractive Presentation – The results of your baked products will always be tasty and adorable. You can choose from 3 crust settings (light, medium and dark) so as to make the exact type of baked goods that you prefer.
High Capacity – This Emerilware bread machine has dual kneading paddles for an efficient processing of ingredients. And it is capable of producing up to 3 pounds of loaf of bread.
Silent and Steady – This model of breadmaker has low-output sounds and its minimal vibrations keep it steady on the kitchen counter.
Fast and Programmable – You can delay the baking process to up to 15 hours in this breadmaker. And if you want quick preparations of bread and baguettes, you can make use of the quick cycle option to bake bread in just one and a half hours.
Easy to Use – This Emerilware bread maker model has easy-to-manipulate controls. When you buy or order the unit, it also comes with breadmaker instructions to help you set and use the device easily.
Includes Emerilware Bread Machine Recipes – The unit comes with easy-to-follow breadmaker recipes to inspire you in making different types of bread.

Cons
As you will notice on the hundreds of bread maker reviews on the internet, this particular model is considered to be the best breadmaker by a significant number of consumers. However, there are some customers who complain that the device is quite heavy as it weighs around 18 pounds. You should therefore be aware of this minor set back when deciding to buy the unit, as you might not be able to transfer it from place to place easily.
What Others are Saying
This particular model of breadmaker has an overall rating of 4 stars out of 5 stars at the Amazon.com site. Here are some of the reviews and comments from customers who have already purchased and used the bread maker:
"I've had it for about a month now and I couldn't be happier…it works like a dream. It does an awesome job of kneading the dough and I have to say it gives me some of the best-textured bread I've ever had the pleasure of eating."
"The unit itself is pretty large, but it functions quietly, and stays in one place on the counter."
"Before this machine all I made was box cakes and was not great at it. Bought this machine five weeks ago, using at least 3-4x a week, and not once have I made bad loaf."

How Much is the Emerilware Bread Machine?
As of this writing, this particular model of breadmaker is priced at $146.84 at the Amazon.com site. The bread maker price includes free shipping and handling when you use the Super Saver Shipping privilege.
Does it Include a Warranty?
Yes, this Emerilware bread maker comes with a 1-year limited time warranty.
Our Recommendation
We highly recommend this particular model of Emerilware bread maker. As you can see in this review, the unit works great in providing different types of bread for a small family as well as for a large family. It is definitely well worth the price tag and it's a great gift idea too.
---
Comments are closed.